Prime Minister Giorgia Meloni's visit to Ethiopia marks new Italian proactive engagement in the Horn of Africa
The trilateral meeting between Italy, Ethiopia and Somalia held during Prime Minister Giorgia Meloni's visit to Ethiopia highlights Italy's intention to view this region as strategic for the stability of the Broader Mediterranean. Her visit coincides with the beginning of hostilities in Sudan, which threatens to unleash a new wave of illegal migration towards Italian shores.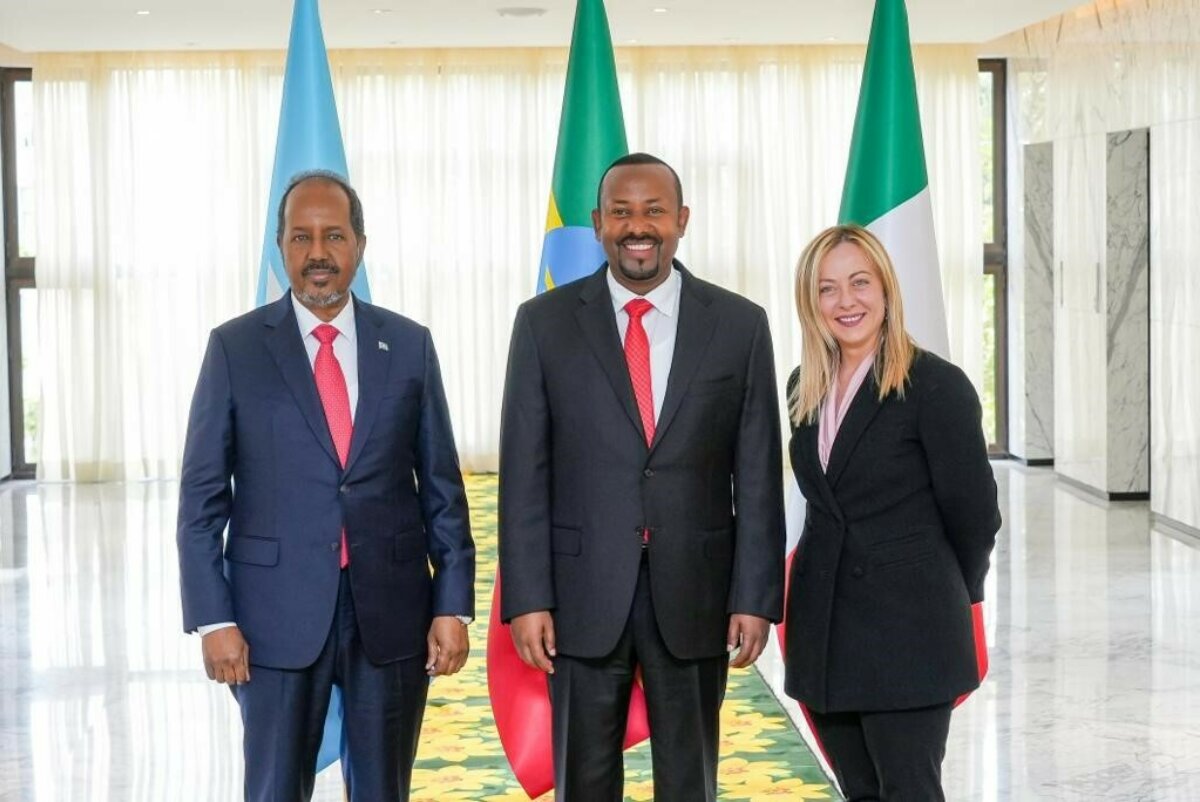 Italian Prime Minister Giorgia Meloni visited Addis Ababa on 14 and 15 April. This was the first visit of a Western head of government to the country since the November 2022 signing of the Pretoria peace deal, which ended the war in Tigray after two years of bloody fighting. During her visit, Prime Minister Meloni held a trilateral meeting with Ethiopian Prime Minister Abiy Ahmed and Somali President Hassan Sheikh to discuss stability, reconstruction and joint economic projects in the two countries. Meloni's trip is the continuation of an engagement that began in early February 2023, when both Abiy Ahmed and Hassan Sheikh visited Rome. This was followed last month by Italian President Sergio Mattarella travelling to Kenya – a key political actor both in the Horn of Africa and the Great Lakes Region. Follow-up meetings are expected to be held on the margins of the 2023 Food Systems Stocktaking Moment meeting, which will be hosted by FAO in Rome on 24-26 July, as well as during the October Italy-Africa Summit, where PM Meloni intends to present her Government's Plan for Africa.
Beyond the historical ties between Italy, Somalia and Ethiopia – which were mentioned by the Prime Minster herself during her trip – there are deeper strategic reasons behind Rome's renewed interest in the Horn of Africa.
First of all, the Horn is part of the "Broader Mediterranean". Spanning from Europe to the Arabian Peninsula, encompassing North Africa, the Levant, the Sahel and the Eastern Mediterranean, this region is crucial for Italy's energy and security needs, but currently lacks a coherent vision and a shared security system. The consequences of the war in Ukraine have further shone a light on how different areas in this region interconnect, with implications for the economy and stability of several countries, including in the Horn. Russia has also strengthened its presence and influence in this area, including in Syria, Libya, Mali and the Central African Republic, in addition to Sudan and Eritrea. This now constitutes a belt of instability that puts further pressure on southern Europe. These factors have led to Italy placing the Broader Mediterranean at the heart of its foreign policy agenda, a part of which focuses specifically on promoting stability and economic development in the Horn of Africa.
Secondly, both Ethiopia and Somalia have seen political progress in recent months. A Cessation of Hostilities Agreement (CoHA) between the Ethiopian Federal Government and the Tigray People's Liberation Front was signed in Pretoria, South Africa, in November 2022. Nearly six months later, the agreement has succeeded in putting an end to the conflict in the northern region of Tigray. This has enabled the resumption of humanitarian aid and other services, the appointment of a new interim Tigray administration, and the beginning of a process to disarm Tigrayan forces – and for Eritrea to withdraw from the region. Following these developments, Italy has decided to resume development cooperation with the country, putting on the table €125 million for the country's reconstruction. Still, Ethiopia needs additional assistance from International Financial Institutions, which will also depend on further progress on the implementation of the CoHA.
In Somalia, newly (re)elected President Hassan Sheikh has undertaken an unprecedented offensive against Al Shabaab, liberating vast areas which will require reconstruction. This has created new room for cooperation between Somalia and its neighbouring countries, as shown by the meeting held in Mogadishu at beginning of February between President Hasan Sheikh and Kenyan President William Ruto, Djiboutian President Omar Guelleh and Ethiopian Prime Minister Abiy Ahmed. For the first time, all the heads of state from neighbouring countries paid a visit to Mogadishu to support the agenda of a Somali president, in recognition of the unprecedented level of autonomy recently regained by Somalia. It is in light of these developments that Somalia will be eligible for full debt relief from the International Monetary Fund (IMF) and other multilateral lenders by the end of this year, which will also allow the country to address multiple shocks affecting its economic growth and reconstruction plans. To further support this process, among other development plans, Italy is discussing with Somalia and Ethiopia joint economic projects, ranging from infrastructure to energy. In this regard, the significant presence of Italian companies in Ethiopia could also be beneficial for Somalia.
Lastly, in recent years, Italy's policy vis-à-vis the Horn of Africa has mainly focused on migration. Home to 823,000 refugees and 4.2 million displaced people, the region has been the starting point of illegal migration flows to Italy and the rest of Europe since the 2010s, particularly from Ethiopia, Eritrea and Somalia via Sudan and Libya. However, the Meloni Government intends to take a more comprehensive approach to the migration issue. She is expected to present her Government's Plan for Africa, dubbed "Mattei Plan" after the late Enrico Mattei, who was the Chairman of Italy's energy company ENI between 1948 and 1953 and was known to be a champion of decolonisation in the aftermath of WWII. Little is yet known about the plan, which is supposed to focus on a model of cooperation with African countries aimed at promoting stability, countering terrorism and radicalism, and supporting economic development by easing international financing, which is critical for additional investments in the region. The effectiveness of the Mattei Plan will also depend on Italy's ability to act as a bridge between African countries and the European Union as well as other relevant international institutions.
Italy's active engagement in the Horn of Africa also needs to be seen in the context of Prime Minister Meloni's fresh start in relations with the Arab world. In stark contrast to her recent predecessors, in her first six months in office, she has succeeded in rebuilding a strategic partnership with the United Arab Emirates and improving ties with Egypt. Relations with the Crown Prince of Saudi Arabia, Mohamed Bin Salman, are also expected to improve.
These developments could prove helpful in dealing with the current crisis in Sudan, which requires immediate attention. Just as Meloni was visiting Ethiopia, a major conflict broke out in the Sudanese capital Khartoum between the Sudan Armed Forces, led by Lt. General Abdel-Fattah Burhan, the de-facto President, and the Rapid Support Forces under the leadership of General Mohammed Hamdan Dagalo "Hemedti". Unless it is resolved quickly, the conflict in Sudan will turn into a protracted civil war with direct implications on the stability of the country's neighbours. Italy is at risk of finding itself on the frontline, as a humanitarian crisis will inevitably lead to new waves of migration, including to the Mediterranean, which Sudan has historically connected to the Red Sea. Yet, despite its strategic significance, Europe has lost its leverage in this area, leaving Russia to fill part of the gap.
With Arab countries having significant influence in Sudan, Europe should also leverage Meloni's newly established relationships with Arab leaders and her growing engagement in the Horn of Africa to advocate for an immediate end to hostilities and help to shape future European efforts in Sudan.