Med-Or Foundation signed a Memorandum of Understanding with INGV
INGV and Med-Or Foundation strike up a collaboration to promote joint higher education projects in the Mediterranean area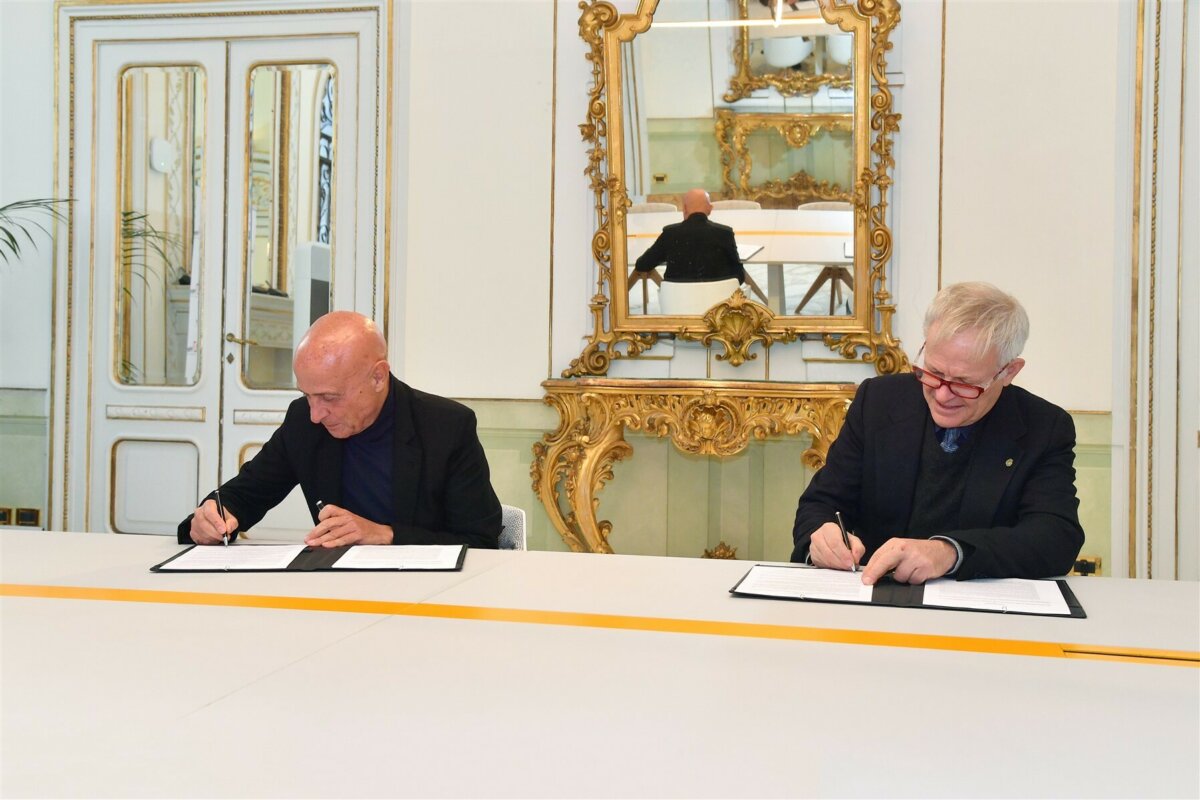 A new collaboration between Italy's National Institute of Geophysics and Volcanology (INGV) and Med-Or Foundation was launched on 11 January 2023.
Through a Memorandum of Understanding, signed during a ceremony held at Med-Or Foundation's headquarters in Rome, the two organizations will cooperate to develop networks to monitor natural phenomena in the Mediterranean area and contribute to higher education, conducting research projects in the field of Earth studies, risks and natural resources – in which INGV represents a reference at the international level.
Med-Or Foundation will guarantee its support, including by providing scholarship programmes for the development of scientific and training projects.
"This partnership is an important tool to develop a culture of geosciences and knowledge of the Earth's structure and functioning and, as a consequence, also of risks and natural resources in the Mediterranean area," said INGV President Carlo Doglioni. "In Italy, scientific research about our planet boasts a centuries-old tradition. From now on, it will be possible to engage a constructive and open dialogue aimed at achieving a better balance between our common home and all its inhabitants. Research is key not only to tackle the great challenges of our time, but also for the progress of humankind, through the protection of the environment and the creation of an indispensable communication bridge between Europe, Africa and the Near East."
The collaboration between the two organizations sees scientific research as a tool for coming together and sharing across borders and cultural and linguistic barriers, so that new generations on both sides of the Mediterranean can enjoy more opportunities for growth and knowledge.
"We are delighted to start this collaboration between Med-Or Foundation and the National Institute of Geophysics and Volcanology," said Marco Minniti, Chairman of Med-Or Foundation. "We believe this will foster the development of relevant research and training projects, particularly for countries with which we have built solid relations and promoted numerous educational activities in recent months," he added. "The Institute represents a national excellence in the field of scientific research. We are certain that there will be several opportunities to promote initiatives throughout the Mediterranean region, aimed at developing new research and study projects on issues of great importance for the future of the planet, which are also of interest for our partners in the Mediterranean".
The agreement between INGV and Med-Or Foundation represents a ground-breaking collaboration initiative which, in future, could set an example for the promotion of science in the Mediterranean.