A dance of dragons and lions
by Asia Jane Leigh

Investment, infrastructure and soft power: China's strategy in the Maghreb and its repercussions on the Mediterranean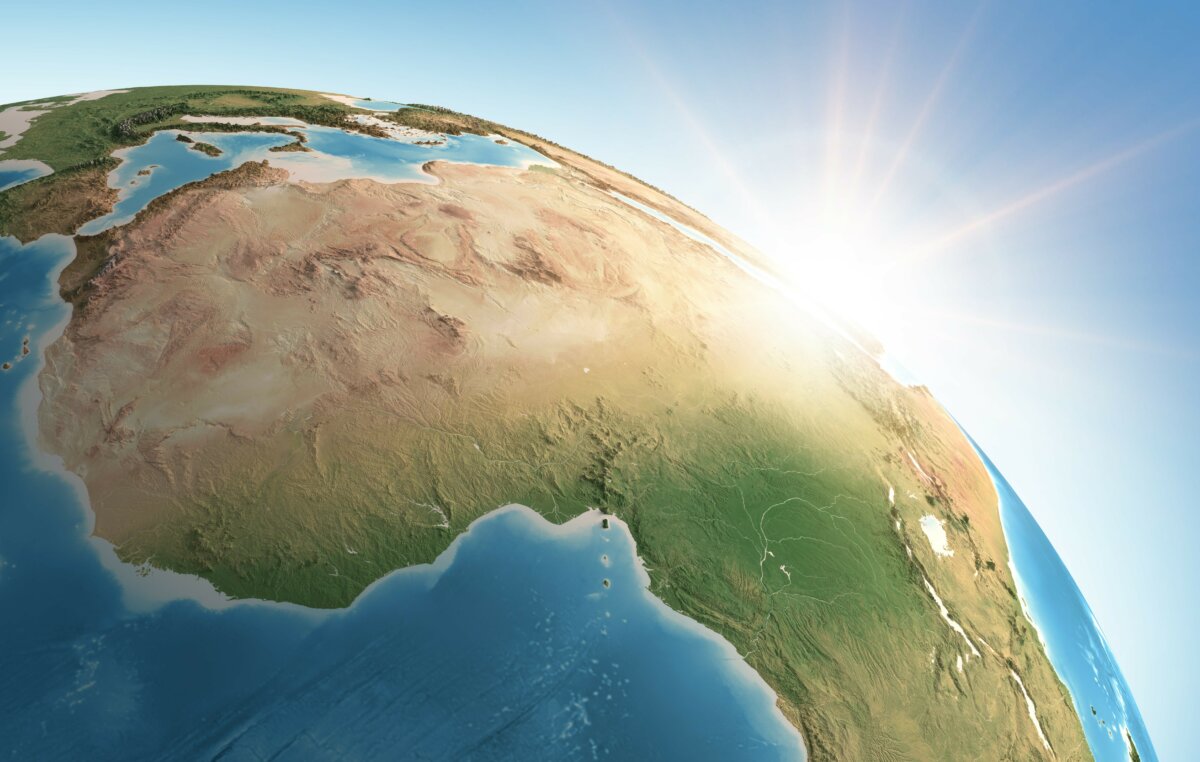 Since the Belt and Road Initiative (BRI) moved its first steps in 2013, China has shown great interest in the Maghreb, recognizing the region as a strategic gateway to European and African markets. Over the past two decades, Chinese officials have been strategically ramping up their engagement with countries such as Algeria, Tunisia, Egypt and Morocco. This stems from an awareness of the economic, strategic, political and cultural opportunities offered by a region that sits at the crossroads of Africa, Europe and the Arab world. The signing of Memoranda of Understandings (MoUs) with every state in North Africa demonstrates China's expanding foothold in the region. Yet, it remains to be seen how sustainable Chinese investments will prove to be in the coming years, particularly given China's recent refocusing on domestic economic and investment policies.
China has strengthened its presence in the area by signing either strategic partnerships (SPs) or comprehensive strategic partnerships (CSPs) focused on areas of mutual cooperation, such as economics, security, technology, but also culture and development. China established CSPs with Algeria and Egypt in 2014, and a lighter Strategic Partnership with Morocco in 2016. While the first type involves a higher level of institutional communication and a robust diplomatic and security partnership, the second remains a primarily economic and cultural agreement. However, both have included multiple MoUs, similar to those China has also signed with Tunisia, as well as major infrastructure and development partnerships. China has also worked through its multilateral platforms, such as the China–Arab States Cooperation Forum (CASCF) and the Forum on China–Africa Cooperation (FOCAC).
China's policy in North Africa combines both soft and hard power. However, it is the economic dimension that prominently marks relations between China and the region, as the Maghreb represents an attractive market for Chinese companies and investors. Chinese investments and partnerships in the region have spanned from trade and infrastructure development to financial cooperation, tourism, shipping and manufacturing. Of the 10,000 Chinese companies established in Africa between 2016 and 2017, about one-third operates in the manufacturing sector, contributing to job creation, skills development and the transfer of new technologies. Another major asset of China in Northern Africa has been the building and financing of major civil engineering infrastructures. China is currently funding one in five projects in the region, and directly building one in three through Chinese companies. China's plans also include mega-projects connecting North Africa to sub-Sharan Africa, which are critical to boosting the continent's internal trade, such as the projected Cairo-Dakar, Algiers-Lagos and Tripoli-Cape Town highways, as well as China's planned Maritime Silk Road. The China State Construction Engineering Company (CSCEC) and China Harbor Engineering Company (CHECH) are both financing the Algerian Port of El Hamdania, in Cherchell, in exchange for the port's concession for the first 25 years, while Chinese state-owned giant, COSCO Shipping Ports, has gained control over one of the main entry points to the Mediterranean Sea, Port Said, at the exit of the Suez Canal. Furthermore, China is specializing in laying submarine cables, a crucial element for its telecommunication development strategy, which aims at improving connectivity between Asia, Africa and Europe, increasing trade and stimulating economic growth.
In addition to the planned Maritime Silk Road, China is also moving steps in the digital and technological sector. One of the latest projects, launched in 2016, is the Mohammed VI Tangier Tech City, a hub worth US$10 billion, resulting from an agreement between the Moroccan BMCE Bank, the China Communications Construction Co (CCCC) and the China Road and Bridge Corporation (CRBC). The new city is expected to host 200 Chinese companies and become 'the Shanghai of Morocco'. Similarly, in neighboring Egypt, the China State Construction Engineering Corporation (CSCEC) has been working on the construction of a new Central Business District in what is expected to become Egypt's new administrative capital. The new smart city, for now dubbed as Sisi-City, is located 50 km east of Cairo and is supposed to provide a solution to the capital's current chronic congestion. This ambitious US$58 billion project is heavily reliant on Chinese assistance and involves partners like Chinese tech giant Huawei.
According to the China Global Investment Tracker, trade between China and the Maghreb countries reached nearly US$23.5 billion in 2019, while in 2018, the Maghreb accounted for 7.6 percent of China's imports from Africa, and Chinese exports to the Maghreb amounted to 14.7 percent of its overall exports to the continent. Algeria is Beijing's main customer in the region, while China remains Tunisia and Morocco's third supplier, as well as Egypt's first trading partner, with an 11 percent share of the country's total trade. However, there is a clear imbalance between Chinese exports to Egypt (15 percent of Egypt's total imports) and Egyptian exports to China which amount to only 2.2 percent of its total exports.
China has also established itself as one of Maghreb's main lenders, craving a strong foothold in the region that has unsettled its Western competitors. For instance, at the 2018 FOCAC Summit, President Xi Jinping announced a US$60 billion package for assistance and loans to Africa, in addition to the US$86 million commercial loans granted by the country between 2000 and 2014. In this regard, China distinguished itself from Western lenders for its policy of non-interference in internal affairs and its emphasis on equal partnerships and mutual benefits. Like other developing countries, Morocco, Tunisia and Egypt are increasingly attracted by Chinese pragmatism, which allows them greater flexibility than Western bureaucracy. According to an Arab Barometer survey conducted in October 2020, 60 percent of Algerians, 55 percent of Moroccans and 53 percent of Tunisians had a very favourable opinion of China – and these percentages only increased in 2021, showing the success of China's so-called "mask diplomacy" and, later, vaccine diplomacy. Indeed, China offered considerable rewards to those partners who joined its Health Silk Road, including the option to manufacture the COVID-19 vaccine locally, which made the partnership particularly appealing for Egypt and Morocco, who share the ambition of becoming regional hubs.
China's soft power in the Maghreb can also count on cultural engagement and strong public diplomacy. The opening, across the region, of multiple Chinese Cultural Centers (such as in Rabat in 2016, and Cairo in 2018) and Confucius Institutes (at the Cairo and Suez Canal Universities and in Tunisia) bears testament to this, as does the lifting of visa restrictions for Chinese tourists. Furthermore, during the 2018 FOCAC Summit in Beijing, China announced an increase in the number of scholarships for North African students, making China the second destination after France for scholarships and training grants.
Notwithstanding China's enhanced role in North Africa, its future investments in the Maghreb – as well as in the rest of the world – need to be seen in the context of the COVID-19 pandemic and its implications for the Chinese economy, as well as the drastic fall in Chinese overseas investments since 2017. According to the China-Africa Economic and Trade Relationship Annual Report (2021), while Beijing remains Africa's largest trading partner, bilateral trade fell by 10.5 percent in 2019 and in 2020 the turnover of Chinese contracted projects in Africa amounted to $383.3 billion, a 16.7 percent drop from 2019, marking the fifth consecutive year of decline. The main reason for this drop lies in the restrictions on overseas investment implemented by the government to decrease large-scale capital outflows and mitigate the exposure of China's financial system. As a matter of fact, especially after the COVID-19 pandemic, the Chinese Government has been focusing on domestic priorities and especially on expanding domestic demand.
The Maghreb, however, represents only a small part of China's total trade with Africa (14 percent), with investments largely concentrated in oil-rich sub-Saharan countries. Like any other player engaged in the Maghreb, China must deal with the region's instability. For instance, normal trade relations with Libya are yet to be restored. Moreover, other issues could arise from the Western Sahara, where China has been struggling to remain true to its non-intervention policy and maintain impartiality between Algeria and Morocco.
The potential long-term role of China in the Maghreb remains to be seen, but its impact is already being felt, not only on the mentioned countries, but throughout the broader Mediterranean area.