Med-Or Foundation and Federal Republic of Somalia signed a Cooperation MoU
• This morning the President of Med-Or Marco Minniti and the Minister of Foreign Affairs H.E. Abdisaid Muse Ali signed a first Memorandum of Understanding between Med-Foundation and the Federal Republic of Somalia. The Minister of Foreign Affairs Luigi Di Maio and the Minister of Education of Somalia H.E. Abdullahi Abukar Haji also attended the ceremony • The Memorandum includes among the main points the promotion of Italian language in Somalia and cooperation in the field of higher education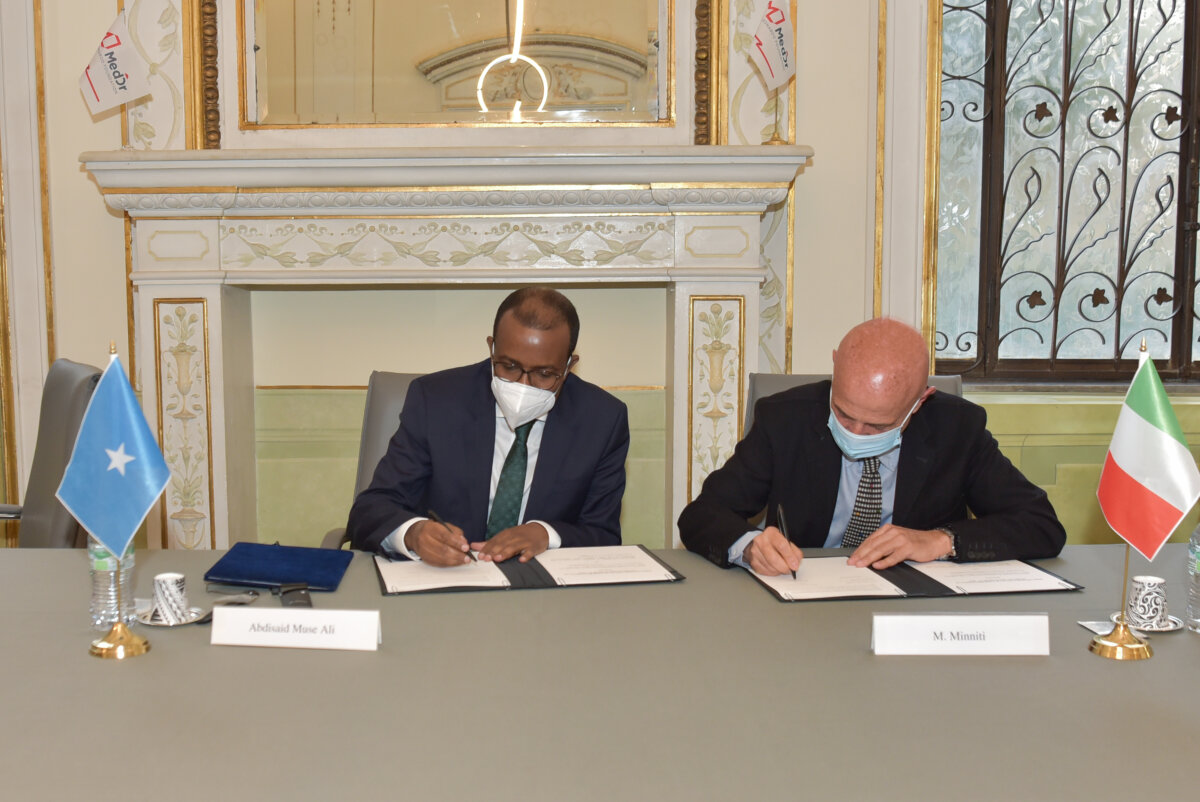 H.E. Abdisaid Muse Ali, the Minister of Foreign Affairs of Somalia, and Marco Minniti, Chairman of Med-Or Foundation
Rome, 21 December 2021 – The signing ceremony of the Memorandum of Understanding between the Med-Or Foundation and the Federal Republic of Somalia was held this morning. The agreement has been signed by the Minister of the Foreign Affairs of the Somalia, H.E. Abdisaid Muse Ali and by the President of Med-Or Foundation Marco Minniti. The event was held at the headquarters of the Foundation, in Rome, with the attendance of the Italian Minister of Foreign Affairs and International Cooperation Luigi Di Maio and the Somali Minister of Education H.E. Abdullahi Abukar Haji. The President of Leonardo Luciano Carta, the Chief Executive Officer Alessandro Profumo, the General Manager Valerio Cioffi, and the General Manager of Med-Or Foundation Letizia Colucci also attended the ceremony.
The Memorandum focuses on areas in which the Foundation is actively engaged, including the promotion of the Italian language in Somalia, and cooperation on higher education through the provision of scholarships and bilateral training courses.
"Somalia is a strategic country in the complex balance of the Horn of Africa. Med-Or's interest and commitment to this country are in line with Italy's engagement in Somalia – says Marco Minniti, President of Med-Or Foundation. – We are very pleased to sign this Memorandum of Understanding with a key partner for us in the Horn of Africa. In accordance with the aims and objectives of our Foundation, we will strive to promote both the teaching of the Italian language, and high-level training courses together with Somali institutions. In this regard, we will also work to consolidate cooperation and bilateral relations."
The Memorandum signed with the Republic of Somalia follows the projects and activities promoted with other African partners, such as Morocco and Niger, in 2021.